Are you a video enthusiast looking for the best Sony camera to bring your projects to life? You're in the right place!
In this guide, we'll walk you through the best Sony cameras for video production and filmmaking, helping you to make an informed decision.
Introduction
This guide provides a comprehensive overview of the best Sony cameras for video production and filmmaking. Sony cameras have become increasingly popular for both professional and amateur videographers, due to their wealth of features and affordability. From 4K video recording to low-light capability, from autofocus features to weather-sealed bodies, Sony offers top-end technology in several models that — depending on your needs — can be tailored to fit just about any budget.
The following guide explains the differences between various Sony cameras while breaking down their respective strengths and weaknesses, so no matter which kind of video production you are interested in pursuing you can make an informed decision. We'll discuss the core capabilities of each camera before diving into individual model details, so that whether you're an aspiring filmmaker or a veteran cinematographer, you can ensure that whichever camera you choose is right for the job.
Explanation of Sony cameras
In order to make the right decision when it comes to purchasing a Sony camera for filmmaking or video production, it's important to understand some of the features and characteristics offered by Sony cameras. Sony cameras are acclaimed for their quality and innovative technology which help create stunning films and videos. Here's a quick overview of what users can expect from the different models.
Sony Alpha Series: The Alpha lineup includes cameras from mirrorless models, APS-C sensor devices and full-frame devices. Mirrorless models offer great image quality in a small package, while APS-C sensor devices deliver relatively fast autofocus and exceptional 4K video production capabilities with no pixel binning. Full-frame Alpha devices provide outstanding low-light performance, dynamic range and shallower depth of field.
Sony NEX/Cyber-shot Cameras: This line offers budget-friendly options with great image quality for both point-and-shoot photography as well as excellent features such as continuous auto focus tracking with eye detection technology that tracks people's eyes in real time while recording videos. While these won't give you full control over the exposure settings they are perfect choices if you're looking for portability in your filmmaking productions.
Sony Cyber-shot RX Range: This compact model is capable of recording movies at high frame rates up to 4K resolution, which makes it highly suitable for action scenes or slow motion sequences. It also features useful features such as microphone inputs and headphone jacks, color profiles, ISOs range up to 12800 (expandable up to 51200) etc that make it an ideal choice for cinematic video production workflows.
Importance of Sony cameras for video production and filmmaking
Using Sony cameras for video production and filmmaking can bring your project to the next level. Sony has been a leader in the development of professional digital video technologies, offering superior resolution, image stabilization, recording media options and other features that are important to drivers. When shooting a motion picture or video, the quality of your camera can have a significant impact on the end results.
Sony cameras come with a range of features designed specifically for filmmakers and videographers:
High-end sensors: Sony's Exmor infrared imaging systems provide superior resolution at both low and high light levels compared to traditional CMOS or CCD sensors

Optical image stabilization: Most Sony cameras feature optical image stabilization, which helps reduce camera shake while shooting on the move or in low light settings.

Multiple recording media options: Different models offer different recording media options (e.g., SD cards, MemorySticks) depending on your project's needs

Gimbal compatibility: They feature gimbal compatibility so you can always get smooth shots without sacrificing steadiness

Full control over color grading: The full control you get over color grading comes from Sony's original Color Management System (CMS). It makes it possible to match colors in various lighting environments with reference Color Chart sets for many popular formats

Compact design: Many Sony models feature small form factors which make them suitable for handheld use allowing you to shoot scenes quickly and efficiently.
Overview of the guide
This guide provides an overview of the best Sony cameras for video production, cinematography and filmmaking. With Sony's commitment to innovation and advancements in movie-making technologies, their cameras have become increasingly popular among filmmakers, as well as YouTubers and amateurs alike. This is a comprehensive review of the best Sony video cameras, describing their main features, pros and cons to help you make the right choice.
The first section provides an overview of video production capabilities and key features of various Sony cameras. We explore the top three full-frame Sonys with their powerful 4K recording capabilities. We will review their low light shooting abilities, battery life and storage capacities. Additionally, we will highlight how these cameras differ from lower-priced options such as the Alpha a6300/a6400/a6500 series that are designed for filmmakers on a budget but still provide relatively strong performance when recording videos.
The second section examines lens options for all levels of videographers. It explores differences between prime lenses (fixed focal length) vs zoom lenses (various levels of magnification) for both manual focus systems and autofocus tracking capability such as 'Smooth AF' from Sony G Master series lenses or 'Smooth Autofocus Technologies' from Zeiss Loxia line of lenses . Finally we will discuss other useful accessories such as external audio recorders (including shotgun & lavalier mics) to further expand one's Video Production capabilities with Sony Cameras.
History and Development of Sony Cameras for Video Production and Filmmaking
Sony is one of the biggest names in the camera industry and has been involved in video production and filmmaking since the 1960s. Sony's first foray into professional video cameras was with the Betamax format followed by the introduction of their legendary VTR-1 studio camera system. Over the years, Sony has released a number of groundbreaking models that have changed the way cameras are used for filmmaking. In 1985, Sony released their Mavica series of still cameras which used digital cassette recording methods to store photos on media cards. Earlier examples such as their CCD TRV21 Handycam were among some of the earliest camcorders available to consumers and paved the way for modern digital cameras used widely today.
In 1992, Sony introduced its Digital Betacam Camcorders which allowed direct recording onto magnetic tapes in a digital format. This marked an important milestone in video production and filmmaking as it enabled high resolution capturing capabilities while maintaining seamless autocueing control during live broadcasts or recordings. 2009 heralded a new era when Sony announced its first DSLR Camera with interchangeable lenses which lent itself perfectly to making cinematic films or shorts whilst retaining easy portability without compromising on image quality and convenience – something much sought after by filmmakers across all genres ever since.
Alongside these major developments, some of Sony's smaller yet equally remarkable contributions include features such as advanced auto focus, LED spotlight light compatibility, additional mute buttons for controlling audio levels along with multi-camera remote controls for setting up complex shots or angles on any shoot limited only by your imagination!
Brief history of Sony cameras for video production and filmmaking
Sony has been a leading provider of cameras for video production and filmmaking since the 1960s. From the iconic Sony Portapak to their current lineup of full-frame lenses and cameras, their products have been technological game-changers for the industry. The introduction of Super 35mm film technology in 1975 pushed the boundaries of cinematic visuals, allowing filmmakers to stretch their creativity with greater visual depth and expression.
In 1988, Sony successfully released the world's first consumer digital video camera – the Sony DCR-VX1000 – opening up a new world of possibilities for both enthusiasts and professionals alike. This was followed by other groundbreaking releases such as the PD-150/170 which featured an interchangeable lens system designed specifically for video, while even later releases such as the HVR-Z1U allowed filmmakers to capture HD footage on a budget.
Today, Sony has established themselves as one of the foremost providers of camera technology for video production, offering both compact camcorders great for documentary filmmaking and high end cinema cameras that are capable of capturing incredible 4K footage.
Key developments in Sony camera technology for video production and filmmaking
Sony is constantly innovating when it comes to the design and development of their cameras, and the company has made some key developments in recent years which make them ideal for video production and filmmaking.
One of the most significant developments has been the implementation of 4D Focus, which allows users to quickly switch between autofocus and manual focus when shooting. By utilizing a variety of different tracking algorithms and advanced autofocusing technologies, Sony's 4D Focus can be used for smoother transitions during recording and is incredibly reliable even in low-light conditions.
Additionally, Sony has developed its S-Log processing technology which gives filmmakers more control over how colors are reproduced in each shot. This helps ensure that vibrant scenes are captured in stunning detail and colors look their best after post-production adjustments.
With its continuous advancements in camera technology, Sony continues to be an industry leader when it comes to video production and filmmaking tools. By incorporating features like 4D Focus into their lineup of cameras, Sony more than meets filmmakers' needs with equipment that can produce amazing results while still being user friendly.
Sony Camera System for Video Production and Filmmaking
When it comes to video production and filmmaking, the Sony Camera System is considered to be among the best options on the market. Sony cameras are used for everything from independent films to major studio productions. Whether you're a beginner or an experienced filmmaker, the right camera system can make all the difference. In this section, we'll look at some of the best Sony cameras for use in video production and filmmaking.
Sony Alpha a7 III: This camera is one of Sony's most popular models, offering an impressive combination of high image quality and advanced autofocus capabilities. It features a full-frame 24-megapixel sensor and 4K video recording capabilities.
Sony PXW-FS7: A favorite among indie and documentary filmmakers alike, this camera is compact and light-weight but still boasts superior image quality with 4K recording at up to 120 frames per second (fps).
Sony FS5: This Super35 digital cinema camcorder is perfect for handheld shooting or mounting on gimbals for stabilized footage. The FS5 offers stunning 4K image capture and allows for simultaneous HD recording as well as 14x slow motion capabilities over a 120 fps range in HD.
Sony AX100: A great choice if you're looking for something ultra lightweight yet capable of capturing fantastic 4K footage, this palm-sized powerhouse offers efficient battery life as well as fast autofocus performance.
The Final Word: With so many great choices available, it can be tough to choose which Sony camera is right for your shooting needs. However, whatever model you decide on should always come down to your workflow requirements and budget constraints before anything else. Do your research carefully and consider renting instead of purchasing if possible—this way you can get hands-on with different models before making an investment!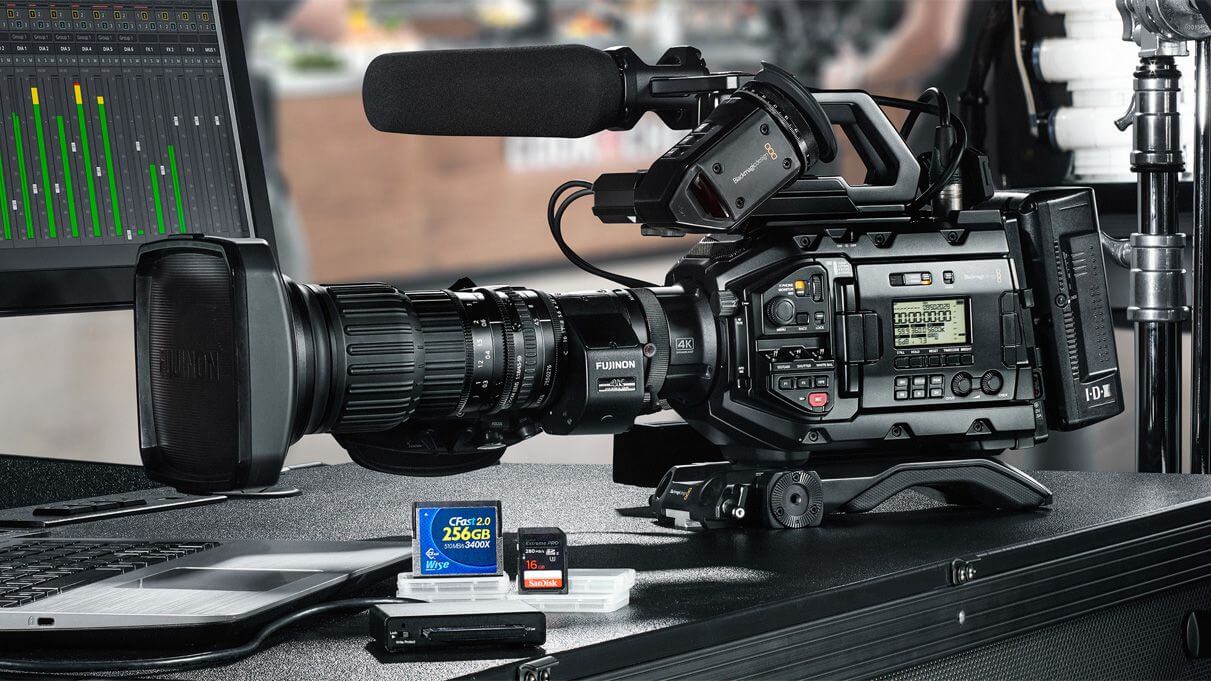 Overview of Sony camera system for video production and filmmaking
Sony has been one of the leading innovators in digital camera technology and video production for decades. They have a wide range of cameras suitable for filmmakers and videographers, ranging from entry-level to professional. Knowing the different features and capabilities of these cameras can help you make an informed decision which model is right for you. This guide provides an overview of Sony's camera system for video production and filmmaking.
Sony offers a comprehensive lineup of digital cinema cameras with many advantages relative to traditional analog film cameras. Most models provide high-quality 4K resolution in 24, 25 and 30 frame rates, with some capable of even higher resolutions, such as 6K and 8K. The larger sensors used by these newer models also produce more bokeh (background blur) effect than conventional 35mm photography lenses, resulting in enhanced image quality with better color separation.
For filmmakers focused on narrative projects or commercials requiring highly detailed images, Sony's lineups can accommodate both shallow depth-of-field cinematic effects or wide shots containing vast amounts of foreground information. For documentary work or documentary filmmaking style projects (e.g., ENG) where speed is often paramount, Sony's range of lighter weight cameras provide flexible handling options without sacrificing imaging power or spacious storage capacity options designed to capture long hours of footage without interruption.
Sony's camera systems are also compatible with a range of third-party lenses – particularly those made by Zeiss – giving filmmakers greater versatility when producing their projects due to the larger selection available when compared to fixed lens systems offered by other brands.
Benefits and drawbacks of the Sony system
The Sony system of cameras offers filmmakers a diverse range of options to choose from. While the cameras offer excellent quality and features, they may not be suitable for everyone or every purpose. Below, we'll go through the benefits and drawbacks of using a Sony camera as part of your filmmaking setup.
Benefits:
Versatile selection of cameras covering every price point: Sony offers a wide range of cameras for varying budgets. Beginner filmmakers can start with entry-level camcorders or Alpha mirrorless models, while more experienced shooters can opt for the latest and greatest pro models like the FS7 or A7S II.

Wide variety of lenses available: The E mount system used by many Sony cameras is compatible with a vast selection of lenses from Zeiss, Sigma, Tamron, and several third-party companies. This means that there is a lens to suit almost any style or type of shooting.

Effective low light performance: Many new Sony cameras offer great low light performance thanks to their large sensors that are able to capture more light than smaller alternatives. This makes them well suited for interior scenes such as live music gigs or poorly lit locations like dark churches or alleys at night.

Excellent autofocus capabilities: As technology continues to evolve, so has the autofocus capabilities on Sony's mirrorless offerings – particularly on the high-end models like the Alpha series which feature excellent face recognition software capable of keeping even fast moving subjects sharp and in focus with ease.
Drawbacks:
A steep learning curve can deter some users from exploring all its features: Some users find it difficult to become familiar with all the menus and setting options available on each model; this can be especially daunting for beginners who just want to quickly develop their skills in filmmaking without spending too much time understanding complicated menus before even starting shooting.

Choice overload can make it hard to decide what's best for you: With so many different camera systems offering unique features that cater specific user need, it can be very difficult -especially if you're just starting out – deciding which system is best suited for your needs as newcomer in this industry (especially if we take into account budget constraints).
Compatibility with lenses and accessories
If you want to get the most out of your Sony camera for video production, it's essential that it be compatible with the necessary lenses and accessories to maximize its potential. Sony's full-frame cameras can use full-frame FE lenses, which cover its entire frame, as well as APS-C E lenses, which have a crop factor of ~1.5x. This means that any E lenses you buy will be smaller than they are on a counterpart APS-C camera because they don't need to cover the entire frame.
Moreover, Sony cameras have power zoom capabilities with many of their new lenses so you can control zoom through the camera itself, thereby eliminating the need for a separate motorized rig or follow focus system.
In addition to native E and FE mount lenses there is also an ever-growing list of third-party adapters and mounts available for those wanting to mount vintage glass or specialized manual cinema lenses. These mounts mean that you can use a vast range from specialty ultra wide angle rectilinear zooms to vintage spherical prime cine focal lengths on your Sony Camera, something which is invaluable for filmmakers who like absolute control over their shots.
Conclusion
Choosing the best Sony camera for your video production or filmmaking project can be a daunting task with so many options available. This guide has presented the features of several of the most popular cameras from Sony, their pros and cons, and a few key takeaways to help you make an informed decision.
At the end of the day, choosing the right Sony camera for your project depends on several factors, including what type of production you're doing and your budget. However, no matter which option you choose, each camera produces excellent image quality and easy operation to help you create stunning films and videos.
Keep in mind that different cameras also come with different accessories that could potentially enhance your production — such as a gimbal or tracking system — so don't forget to take into account which extra pieces are necessary for your specific project before making any decisions.
Thanks for taking the time to read this guide on the best Sony cameras for video production and filmmaking — we hope it has been helpful in helping you find the right equipment for your needs!
See Also :